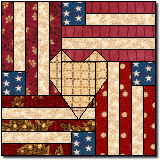 I'm trying to come up with a block for my "Quilted Angels Online Quilt Club" February block challenge. The theme is
Home is Where the Heart Is
. I really didn't want a house with a heart on the door. That's the first thing that came to my mind and obviously would probably be the easiest and quickest. But... oh no, not me. When I am really pressed for time, how about I pick a block that has to be paper pieced. Nothing quick or easy about that! I found this on Pinterest. It screams me, just because it's red, white, and blue.
I also found this on Pinterest and this is actually what I had in mind but I think I need to modify it a bit. I want my house to be bigger and I don't think I need the moon and star. Looks like I need to work on this in EQ7.
Which one do you like best?