Yesterday was Quilt Guild Day. I belong to two guilds; one meets in the morning and the other meets in the evening. The morning guild has about 45 members and the evening one only has 7 members. I enjoy them both.
In the morning guild I was responsible this month for choosing and demo-ing the block of the month. I chose this one for everyone to make this next month and bring back to the September meeting, using fall fabrics. It's a 10" finished block. Someone will win all the blocks to put together a nice fall quilt.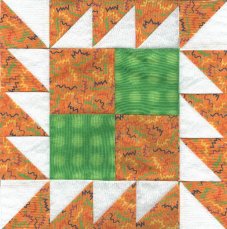 Following the meeting, Sherri M gave the program on getting organized and we made this handy, dandy project bag. Super simple and easy and it even has a zipper in it. Why did I pay money for these in the past? And what great gifts. I made mine in less than 30 minutes and am thinking the next one will go even faster. I'll post a tutorial on how to make these but it will be a couple of weeks. Next week I'm off to Missouri to see my girls before they leave for Japan.
It was my turn at the evening guild - Razzle Dazzle Quilters - to present the program. I showed them how to make the self binding baby quilt (receiving blanket). Here is the
youtube video
on how to do it if you want to give it a try. Once again, super fast and easy.